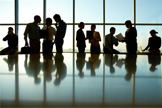 Who are we?

We're just like you. The eight companies that make up the Group are formed from thousands of individuals, each one a vital part of Orochi. We think their words explain us best, so each week we provide a testimonial from one of our valued employees.

Employee Testimonial: Kitsune Hayabusa, Vali Corp.

Florida picked me straight from graduation in 2004, and I haven't looked back. Vali isn't just a career, it's a way of life. It's a new way to see things - to look at the world up close, magnified. You really get a glimpse of how much more we have to learn, how much more is possible.
Everyone here has the drive to succeed. Not for personal success, but knowing that what we work towards can affect thousands, millions of people. Vali brings the right people together - I can't think of better proof than meeting my wife Sally on a DNA project mixer.